What it means to sell your house as-is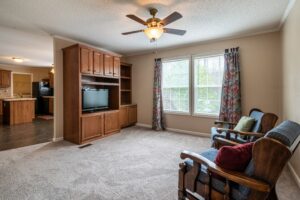 Even in a hot real estate market like the one we've experienced over the past several years, selling a house can be a stressful, drawn-out process that consumes your life for two, three, or even four months. But sometimes you just want to sell your house and move on. Thankfully, you can.
While most homes are sold with a real estate agent on the Multiple Listing Service (MLS), there are alternative options. This includes selling your house as-is for cash.
What is an As-Is Transaction?
Most homes are sold with something known as a "seller's disclosure form". This is when the seller has to go through a checklist and identify any known problems and issues with the house (including any history of things like mold, water damage, and structural issues). 
When you sell a house as-is, you don't have to provide any disclosures or guarantees to the buyer. You're quite literally selling it exactly as it is and transferring all future responsibilities and repairs to the new owner. And while you'll have to meet basic federal and state disclosure statements for things such as lead paint, it's pretty simple to execute this sort of transaction.
Selling Your House As-Is: MLS vs. Off Market
While you can technically sell your house as-is on the MLS, there won't be nearly as much demand as selling a house with inspection contingencies. A buyer's lender and insurance company will want to order a long list of inspections to make sure the property is in good enough shape to buy. And even if the buyer is willing to live with some defects, the lender may refuse to sign off if there are issues like moisture, mold, active leaks, structural problems, or features that aren't up to code. (They want to know that it's in good shape in case they have to take over the property in a foreclosure situation.)
Having said all of that, the best way to sell your house as-is is by working with someone who will buy your house for cash off-market. Cash buyers play by their own rules. This means you can sell your house as-is without having to deal with lenders, inspectors, insurance companies, and all of the third-party folks who slow things down.
The Benefits of Selling Your House As-Is for Cash
Now that you understand what it means to sell your house as-is, let's dig into the why? In other words, why should I sell my house as-is for cash? Here are several reasons:
Eliminates the need for repairs.

Repairs are a seller's worst nightmare. When you sell as-is, you don't have to worry about fixing anything up beforehand. Plus, the buyer knows that any issues they discover are going to be their responsibility. It doesn't matter if it's HVAC, foundation, plumbing, or cosmetic issues – the buyer is responsible for everything. 

Lowers your risk.

Not only do you not have to fix anything, but you aren't legally responsible for anything a buyer discovers after the transaction is complete. You can't outright lie, but you also have no responsibility to disclose problems. The buyer assumes the risk. You get to keep your hands clean.

Prevents delays.

When a home is sold with contingencies and disclosure documents on the MLS, there are any number of issues that could potentially hold a transaction up during the due diligence process. This could lead to delays of weeks or even months. 

Offers quick cash.

When someone buys your home off market in as-is condition, they're paying for it in cash. This is ideal in situations where you need the money right away.
Overall, selling your house as-is is a less stressful experience that prevents hiccups, legal issues, and other complicated factors that so often hold sellers back and lead to frustration. Even if you've never considered it before now, it's a great option.
How to Sell a House As-Is for Cash
Selling a house in as-is condition makes a whole lot of sense on multiple levels. Here's what the process typically looks like:
Step 1: Fill out this simple online form and answer a few basic questions. Someone on our team will contact you within an hour to set up a free phone consultation to learn more about your property.
Step 2: Our team will find your property's highest "as-is" value and schedule a time to come see the property with you. 
Step 3: We'll come see your property within 24 hours (and often on the same day). During this visit, we'll look around. However, because you are the priority – not your property – most of our discussion will center on figuring out how we can best serve you.
Step 4: After seeing the property, we'll send you a written report and plan. If we're able to purchase your house for cash, we'll make an offer. If not, we can get you in touch with someone who can. Our goal is to help you sell your house fast for cash, whether we buy it or not.
Step 5: If you agree to our offer, we sign a contract and initiate the closing process. Closing can often happen in as little as 7 to 14 days.
Selling Your House As-Is? Let's Chat
Are you interested in selling your house as-is for cash? At Samuel Property Group, we work with homeowners in Upstate South Carolina to make selling your house simple, easy, and stress-free. That means no repair requests, no banks, and no back-and-forth negotiations necessary. You simply share your address, answer a few questions, and we'll begin the process of customizing your own cash offer. 
For more information, or for a cash offer on your home, please contact Samuel Property Group today!